And just like that, I planned a new solo trip to visit Kotor in Montenegro. Although the road trip took about 4 hours from Tirana, Albania, I enjoyed it to the maximum. When it comes to my solo trips, I choose cities that are far from my hometown because I love driving alone. But, I also pick places I have already visited because I want to feel safe and secure in every move.
If you're planning your first-ever solo trip, I have listed some tips here.
Why Should You Visit Kotor?
The Old Town of Kotor has been on the UNESCO list of protected cultural heritage since 1979.
Its weather is mainly warm and sunny, and the best time to visit Kotor is Spring and Summer.
Delicious Mediterranean cuisine! Kotor restaurants have an amazing combination of traditional Montenegrin food and seafood.
The warm hospitality and everyone speaking different languages.
Strategic location, and you can get to Budva, Tivat, and Herceg Novi in less than 30 minutes.
Where to Eat/Drink if You Visit Kotor?
Among all restaurants and bars to pick from in the Old Town of Kotor, I have three recommendations.
Pizzeria Pronto – Large variety of pizzas, big sizes, and a lovely staff! This pizzeria is located in the heart of the Old Town and isn't very difficult to find. I didn't order an entire pizza because I wanted to visit the Old Town and record a few videos for my TikTok profile. I ordered one big slice of pizza that cost 3 euros, and it was one of the best I have ever tried. Even the hosts of the apartment I stayed in recommended Pizzeria Pronto because it is known for its tasteful pizzas.

La Piazzetta – I sat down and ordered a drink so that I could enjoy the beautiful view of the Church of St. Luke. Luckily, the Old Town wasn't crowded because, you know, it was March, and I stayed for almost 40 minutes. I loved the service and would highly recommend it.

Konoba Scala Santa – A beautiful and traditional restaurant in the heart of the Old Town! The hosts recommended this restaurant for their friendly service and tasteful dishes, and they also gave me a 10% discount.
Where to Stay in Kotor?
Whenever I plan a trip, I try to take care of all details like accommodation, itinerary, how much money I'll spend, and what I will eat.
I do this mainly because I love how it always turns out to save me time and money and gives me peace of mind.
This is why this time, as with any other time when I travel solo, I picked a luxurious and safe apartment to stay in.
This luxurious apartment was more spacious than I thought! When I first got there, I was impressed by the beautiful view that caught my attention.
The interior design was a mix of rustic and modern, and everything felt like home. The apartment had a well-equipped kitchen where I could cook anything!
My favorite part of the apartment has to be the living room. It had a very comfortable couch (which I could use as a bed and sleep like a baby), a huge flat TV, and great lighting!
The hosts made sure I had all the information needed for my self-check-in. They explained all the way from the Old Town to the apartment using images and self-drawn arrows so I didn't get lost because I had never been there before and I would have definitely driven elsewhere if it wasn't for those!
Then, they explained all the steps I had to take in order to check in and check out. They recommended I drink the homemade wine that was on the table which of course, took part in my most peaceful moments at midnight.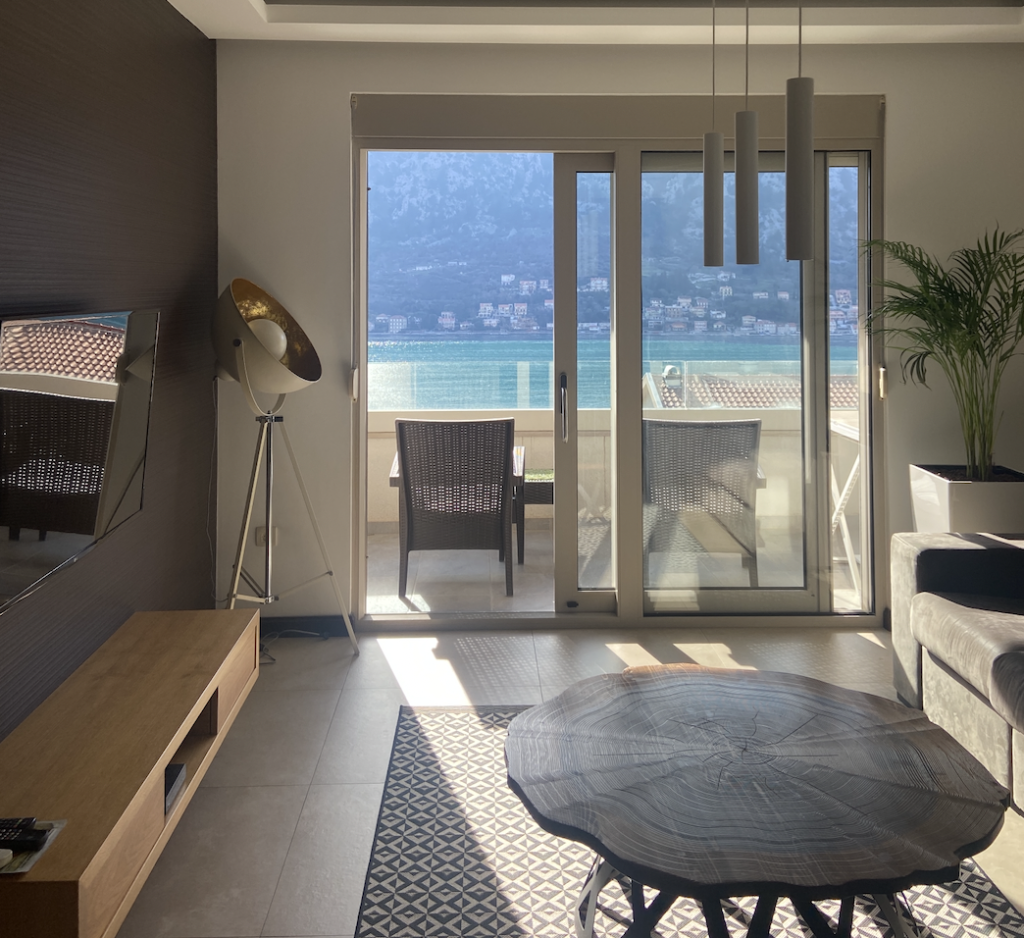 Wonderful Things to See in Kotor just by Walking
Visit the incredible Churches, Cathedrals, and Museums
Churches
The Church of Sveti Luka (St. Luke)
Roman Catholic Diocese of Kotor
Museums
Museum of Cathedral of Saint Tryphon
Read more:
Where to Stay if You Visit Himara, Albania?
How to Become a Digital Nomad in 2023