Albania is a small country with numerous tourist attractions, traditional culture, and unbelievable beaches that make you want to live there forever.
Located strategically, Albania is worth visiting a thousand times!
Is it Safe to Travel to Albania?
Yes! Albanian people are very generous, open-minded, and loyal. They welcome millions of tourists every year and they can speak different languages, too. Albanians were raised watching Italian movies and cartoons, Spanish soap operas, and Turkish telenovelas, some of them were raised during the famous Communism regime – so they speak a bit of Slavic, and also, you can find thousands of people speaking Greek in almost every city in the south of Albania.
They are also known for their delicious cuisine and healthy recipes. That's also due to the incredible climate that allows them to grow their own vegetables and fruits.
As an Albanian, there are hundreds of reasons why I'm still living here. And as a casual solo traveler, wherever I go – it feels like home.
So, take it from me.
Is Himara worth a Visit?
Himara is one of the most beautiful cities to visit in the Balkans. It is famous for its crystal clear waters, picturesque landscape, and local taverns.

Everyone living in Albania says Himara is the perfect place to be if you want access to every other beach. Located in the middle of Vlore and Saranda, the start and finish of the Ionian Riviera.
Here are some interesting facts to know before you visit Himara:
Himara's municipality includes 7 of the most beautiful villages in southwestern Albania: Palase, Dhermi, Pilur, Kudhes, Vuno, Ilias, and Qeparo.
The local population is bilingual in Greek and Albanian. – Wikipedia
The inhabitants of Himarë are mainly Orthodox Christians. – Wikipedia
There are several Orthodox churches and monasteries built with traditional Byzantine architecture. – Wikipedia
Where to Stay in Himara?
I have been visiting Himara for the past 15 years. I have stayed in different hotels and apartments in different seasons and can comment on the best spots to spend a 10-day vacation, a 5-day vacation, or a weekend vacation.
The last hotel I stayed in was a suggestion from my brother. He told me everything about the facilities, the view, the breakfast, etc. But, what he forgot to explain to me, is the hospitality and the feeling I would have during the say.

I reserved one week before, and I was a bit skeptical at first. It was the middle of February, and I thought Himara would be almost like a ghost city: no people, no tavernas, no music, and no shops.

I was wrong!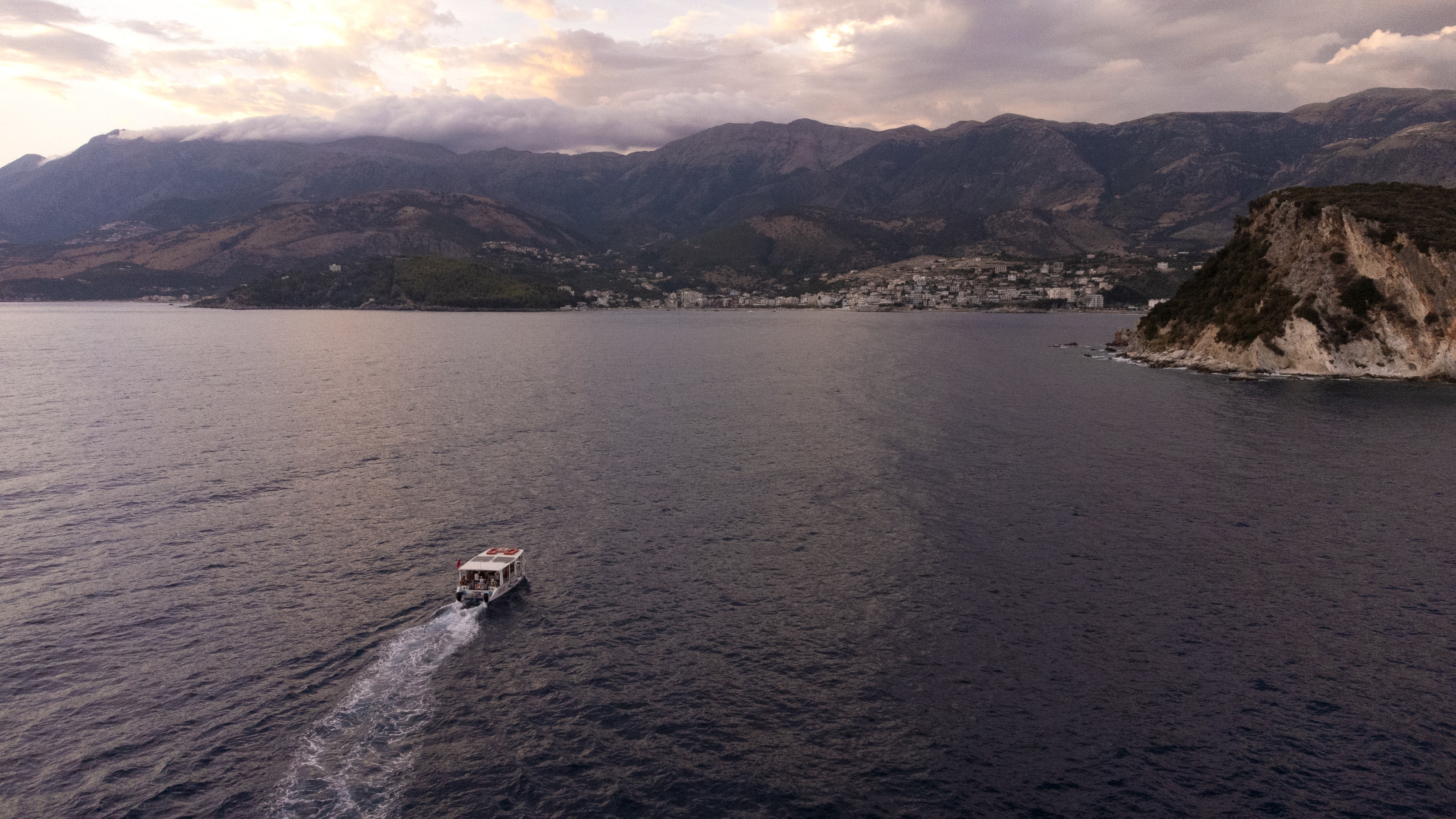 When I first saw Rea Boutique Hotel, I immediately thought I would love the privacy, and its location. When I arrived, I parked the car and met with the owners. Their friendly greeting made me feel safe because I was traveling alone, and honestly, all I wanted was to have a relaxed afternoon.
They introduced me to the room and words can't describe the view! I could see the harbor and the trawlers on the right, the beautiful city of Himara and the seashore on the left, and my favorite beach, Potam, right in front of me.
It was magical.
My Experience at Rea Boutique Hotel
My room, Deluxe Double Room with Sea View, was one of a kind. It had a large balcony, an aesthetic bathtub, and a super comfy bed.
It took me less than one hour to get the best angles to create some travel content for my portfolio and TikTok. Every part of the room and the view was photographable!
And just like I hoped, I was all alone in the hotel. At night, I went out to enjoy the city, ordered a souvlaki from the only taverna opened in February, and then ordered a glass of white wine at Manolo, my favorite night bar in Himara (around 2 minutes away from the Hotel).
Although I traveled solo, I wasn't scared. I saw about 20 people in total, and all spoke Greek. I didn't understand a word but felt like I was on a Greek Island.
Catch up: Plan Your First Solo Trip in 2023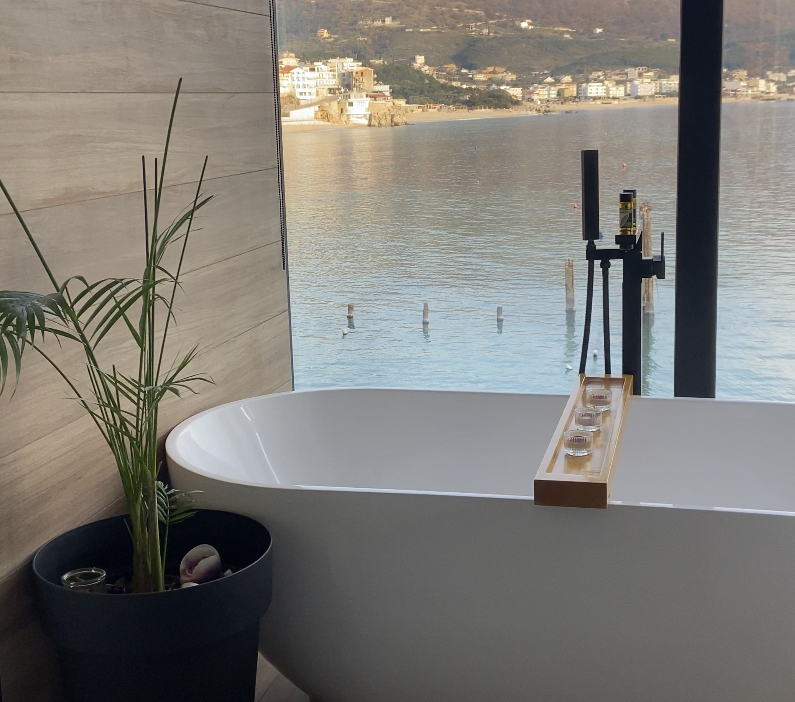 Once I returned to Rea Boutique Hotel, I prepared the bathtub, lightened some candles, and opened Netflix.
Name a better way to spend a Friday night.
The next day, I woke up very early, as per usual, and notified the staff that I got up and ordered breakfast. They delivered the delicious breakfast to my room and made sure I was comfortable eating it on the balcony. The breakfast included bread, avocados, an omelet, fruits, yogurt, mini donuts, honey, fig jam, and fresh orange juice. Now that's a 5-start breakfast!
When I told the owners that I'm a Travel UGC Creator, they immediately gave me the key to another room, which was much bigger, had a much more beautiful view, and what made it different was the jacuzzi. Imagine the jacuzzi with a view of Himara!
Although I didn't stay there because I was kinda obsessed with my room, I took the time to record a few videos and take some photos. Later that week, I posted everything on my TikTok profile and all my videos went viral.
As soon as my first video of my visit to Himara went viral (over 142K views in one day), the staff contacted me and notified me that they were getting messages and reservations all day long! Never in my career life have I felt more proud.
I love promoting luxurious hotels because they never disappoint you: facilities, hospitality, location, etc. And I will keep promoting them!
If you want to promote your hotel/apartment, feel free to contact me here.
Read more:
How to Become a Digital Nomad in 2023
Plan Your First Solo Trip in 2023
Brussels Travel Tips for First-Time Visitors