As I've mentioned before, it is a time to be alive and make the most out of what we can to turn boring days into wonderful memories.
Everyone is talking about their incredible holidays with friends and family and I'm always happy when I see that happy faces are all over my social media.
I've been traveling a lot from the day I got my own car and never regretted some extra money spent to have the time of my life with whom I love most. And that's what I will be doing for the rest of my life.
On Jan 1, 2021 I decided to go somewhere near the sea where I could have some alone time and start off the new year with a whole new energy. Of course, it was the first time for me to do that as I've always had one or more travel buddies with me, but hey, there's always a first time.
It was actually on my bucket list to do and I don't even know where to start to tell you how incredible the day was! So, here's something about me: I never make up my mind easily. I am a 'bipolar' human being and always needed to cure that disturbing thing which would always make me feel bad. So, here's to another thing on my bucket list.
Fast forward to Aug 4, 2021 – I decided to go to the south of Albania. Hundreds of kilometers of solo driving and no plans on my mind. All I knew was that I had two amazing hotels booked for the next two days and that's it!
I'm going to describe what my trip was, but please bear in mind that there are tons of options in Albania for a tourist – but, I chose to do what would make me feel better as I just needed a digital detox.
I started off my trip at 5:15 in the morning and took a quick coffee break at a random gas station in Spille.
I took off and the second break was in Llogara where I had some breakfast, as I hadn't eaten anything.
Cost: Scrambled eggs (180 lek) and water (100 lek).
Then, I started driving again and didn't make another stop until my destination to the Hotel. There is something I'd like to write about related to this hotel.
If you're considering a cheap hotel, please take into consideration that the hospitality might not be the one you're expecting, it will be in a bad neighborhood, and no tourist attraction will be found nearby.
So, I'd highly recommend you pay just a little bit more and never regret anything else. I spent 6 days finding what would most benefit me and my needs, and finally, found Hotel Real!
I can't even start explaining how AMAZING everything about this hotel was!
The owner would literally help you park correctly, take the suitcase and leave it in your room (because there was no elevator, but the view was definitely worth it!), and also, they helped me get a new room key as I forgot mine in my car when I moved during lunch and decided to leave my car in a car washing place. You know – a clean car for the next day is a great decision if you're a messy person like me, haha.
The hotel was among the only ones to be in the best locations ever. Here's what was near my hotel:
Limani Bar – the most famous bar in Saranda, where you can enjoy the best ice cream for only 100 leks! Also, there's a mini boat harbor where you can take some quick snaps or maybe, book a boat trip for the whole day or a couple of hours.
Xhamia (Mosque) Sarande – It is located in the center of Saranda and hosts hundreds of visitors every week.
Public beach – where you can literally get some sun rays for free and enjoy the clean sea.
Amazing bars and restaurants – It doesn't matter what you want to eat: fast food, delicious pizza, Italian pasta, or traditional Albanian dishes – you can find everything on the amazing Saranda pedestrian. I'd highly recommend the ' NO NAME Cocktail Bar (amazing music and lots of young people).
Everything mentioned above can be found no further than 50 meters from the hotel. Isn't it amazing?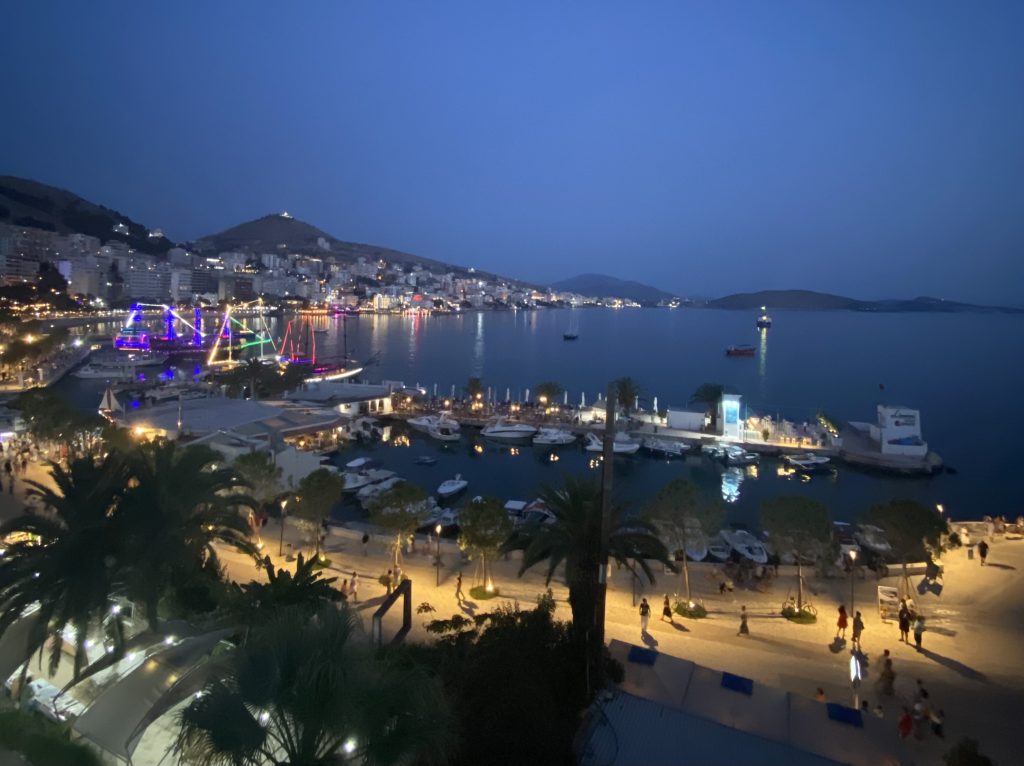 Everyone speaks English and there are tons of English written guides, as Saranda welcomes thousands of visitors every year!
Being that I know some other places nearby Saranda, I decided to spend the day in Ksamil, which is about 20 minutes from Saranda. The beach is totally worth it and very famous for its crystal clear sea, amazing staff, delicious food and you could really enjoy some nice photoshoots there. The only thing that you might need to get warned about is the price range for the sunbeds (1000+ lek) and the food. I didn't eat lunch there as I wasn't hungry, but I would highly recommend you take a good look at the menu before ordering.
Check out my TikTok related to this solo trip.
The next day, I drove to Himara, which is around 53 kilometres from Saranda. The road is incredible and I'm sure you'd enjoy some quick stops to take some photos.
I booked at Sofia's Cozy Rooms and I'm impressed with the location and Sofia's (the owner) hospitality! The room had everything I needed and the consistency of the interior design really made me feel home and get some good vibes. If I had to pick something I loved most, it would be the private little garden where I recorded some TikTok videos.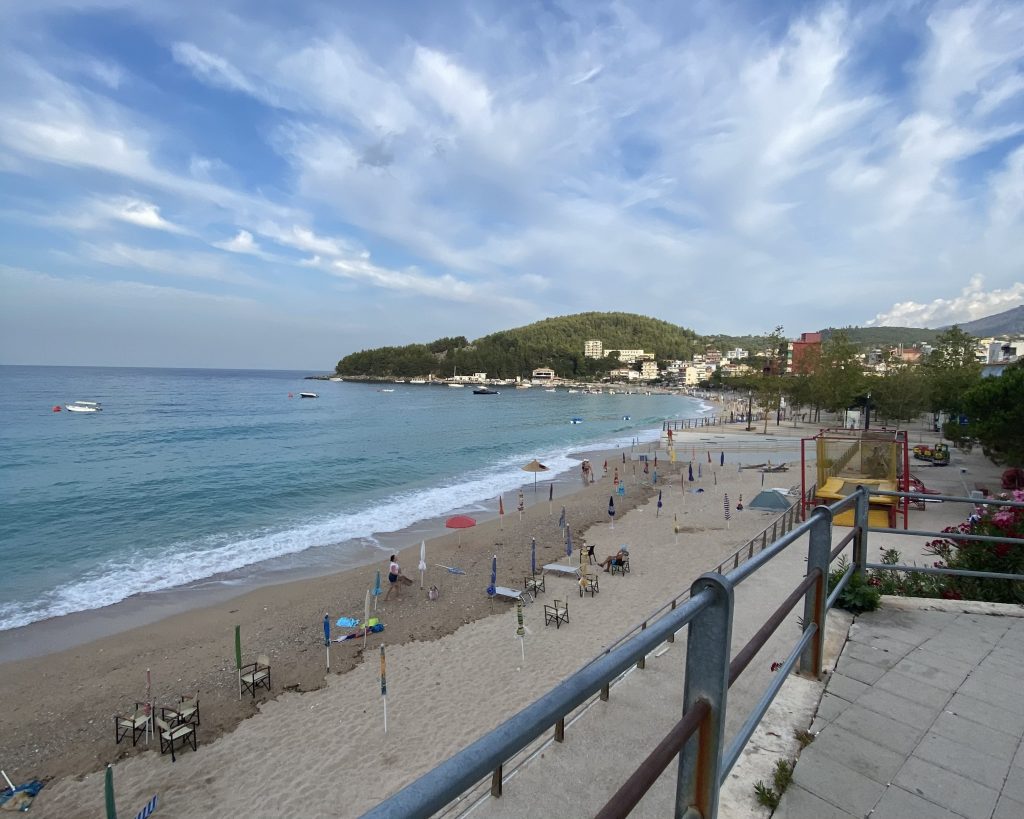 There are multiple beaches near Himara:
Himara beach – located in the center and it is a public beach. There are tons of cafes, restaurants, and shops for you to explore!
Marachi beach – About 3 minutes from Himara beach and it's a gorgeous beach where you can go alone, with friends, or family.
Potami beach – My childhood memories don't even have an ending when it comes to this beach. My family and I always found Potam the most beautiful and the safest beaches in the south of Albania. The prices have been increasing for the past few years, but you can still find some amazing hotels where it's all worth it to spend the money. The beach is quite long and there are also some beach bars where you can get a fresh drink.
Llamani beach – It's located around 5-7 minutes from Potam and it's absolutely outstanding! There's a famous beach bar named Hola Summer Club which you can visit and enjoy the schiuma party during lunchtime.
Among all of the beaches I mentioned above, I spent the day in Livadh – it's around 3 kilometers (7 minutes) away from the center of Himara and there are tons of hotels, restaurants, beach bars, and grocery stores where you can buy whatever (food and drink) you need! The sunbed prices vary, but I got mine for 1000 lek.
I have prepared a list of advantages and disadvantages in case you're considering traveling solo in the south of Albania:
Advantages:
Albania is safe. It doesn't matter when you decide to go out, there are always groups of people that won't disturb you but are always willing to help you in case you need something.

You have options. There's never only one shop, one beach, or one restaurant. It's all about which gives you the best vibes!

Everyone speaks English. I'm going to leave this here!

Albania has amazing landscapes. I'm always hearing comparisons like Thailand, Switzerland, Austria, and Greece all at once! And it's actually true.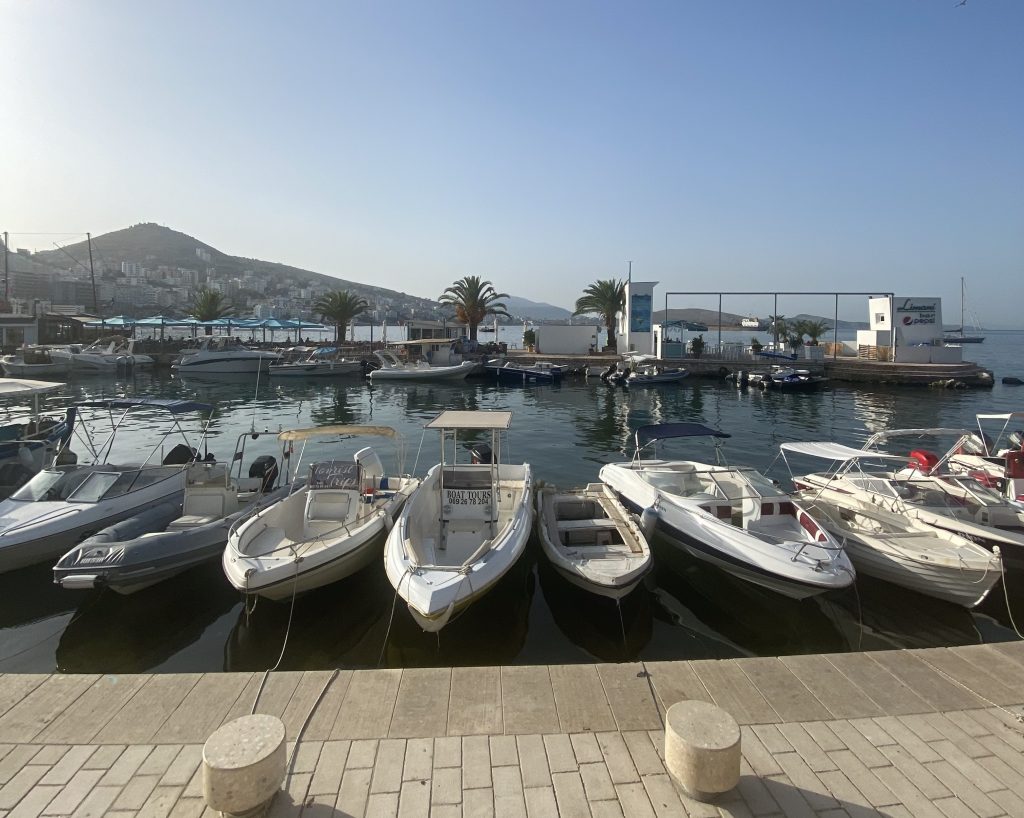 Disadvantages:
The south of Albania might seem a little bit costly to some, especially if you're traveling alone. The rent can get up to 150 euro per night and ordering bottles of wine in a restaurant should always be a second thought in case you haven't checked the menu.

The road is quite tiring as there are only curves and curves and curves. But hey, they are totally worth it, I promise!
This is the itinerary I followed during my 3-day solo trip to the south of Albania:
Tirana – Saranda – Ksamil – Saranda – Livadh – Himare – Tirana
Check the hotels I stayed in (this is not a sponsored content):
Hotel Real (Sarande) + free parking if you let them know in advance using the 'Notes' section on Booking
Sofia's Cozy Rooms (Himare) + 4 euro parking/night (also needs to let them know about the parking in advance)