Am I the only person to love Old Towns more than anything in the world? I mean, Old Towns usually are centralized places to do some shopping, eat good traditional food, join events, drink and have the experience of your life. And that's exactly how I and my mom spent the one-day trip to Corfu, Greece.
Although we worried about the tickets, whether we were required to pay for them in advance or not, it was easier than we imagined!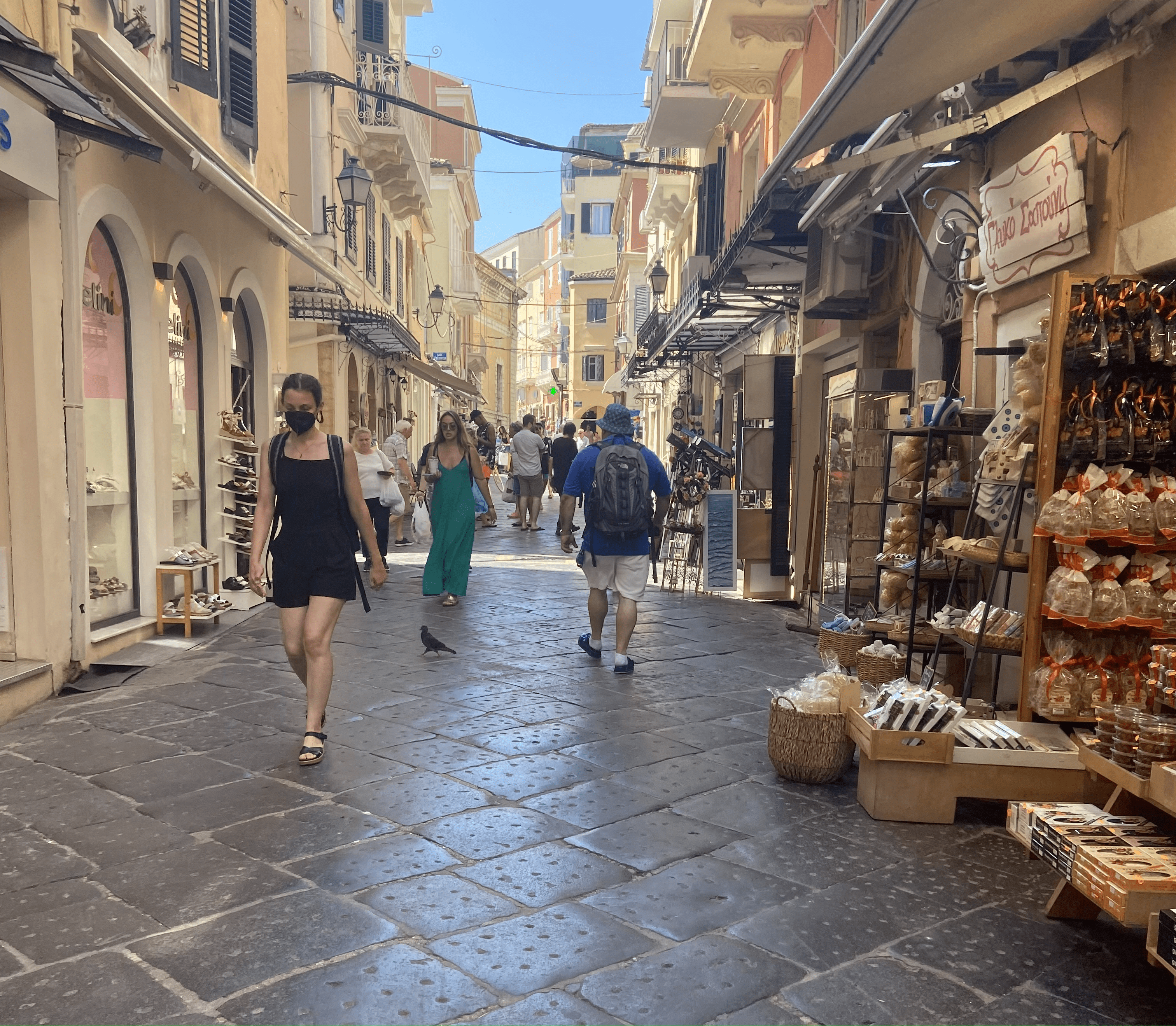 But, is Corfu Old Town Worth It? I have 5 answers for you:
Outstanding history and architecture, picture-perfect
Beautiful nature and climate
Plenty of shops to buy souvenirs, drinks, and affordable clothes
Delicious traditional dishes that still haunt me when I'm in my hometown
Professional waiters and shop assistants
Here's a list of things you need to know before going to Corfu Old Town Trip via ferry:
Wear comfortable clothes. I know you want to get a few snaps and create social media content or new memories. But, I would highly suggest you make your comfiness a priority. Imagine 2 long ferry rides and a lot of wind from the speed.
One-day trip tickets by ferry will cost 30 euros. However, take a look at the real-time prices on agencies' websites.
All you need to show to customs is your passport.
6 Things To Do in Corfu Old Town Trip in Just One Day
Walk around and enjoy the uniqueness of the architecture. Did you know that Corfu is a UNESCO-listed monument?
Appreciate the Liston Promenade and visit the Old Fortress.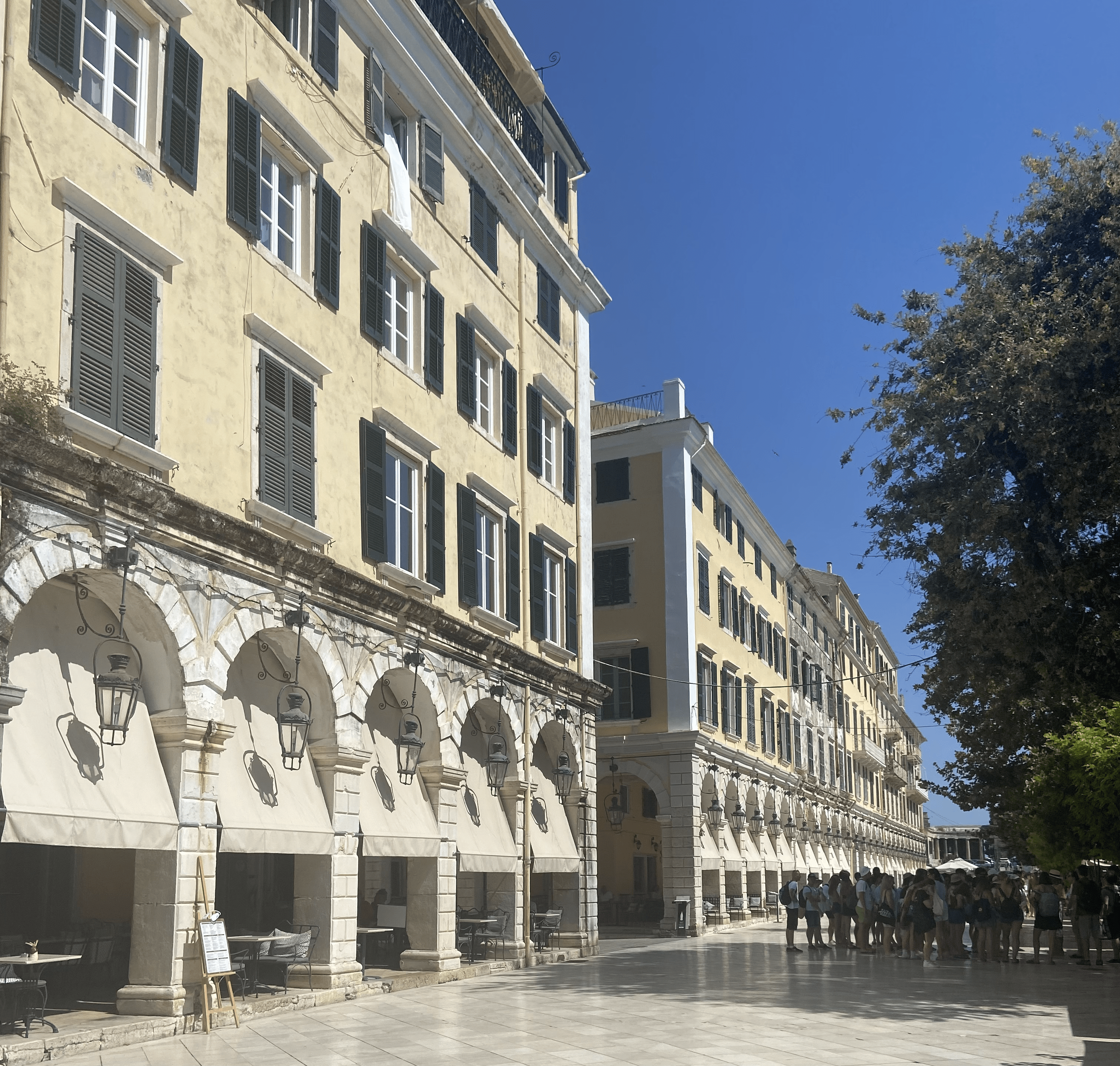 Try traditional Greek food. According to bbcgoodfood.com, there are many traditional Greek foods. However, during a one-day trip, you can only try a few. I and my mom tried the Souvlaki: skewered pork/chicken, french fries, pita, and tzatziki. Simply, delicious. The restaurant we picked was Pane e Souvlaki.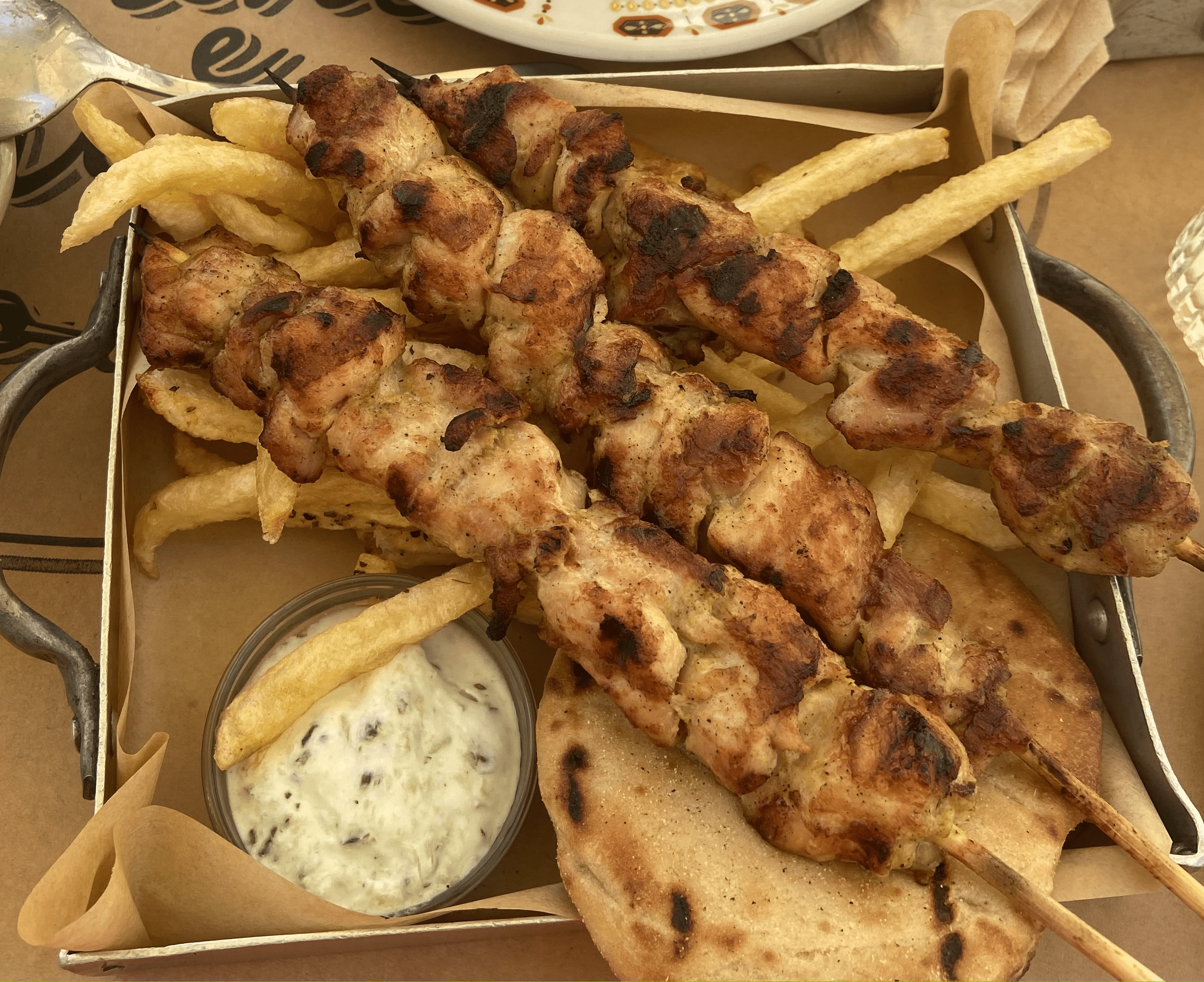 Enjoy a non-alcoholic drink and Free Wifi. This is kinda a personal suggestion. The non-alcoholic drink cost 6 euros and was a mix of different fruit juices.
Buy souvenirs and Kumquat alcoholic drinks/ baklava/ kataifi. According to greeka.com, Kumquat fruit found its way from China into Europe sometime in the late 18th century. It has been mostly cultivated in Corfu since 1924 in the valley of Nymfes, near Platonas village, to the north part of Corfu. Kumquat has tons of health benefits. They contain Vitamin C (strength for your muscles and high in collagen); Vitamin A (helps your vision and immunity); Fiber (can lower your blood sugar).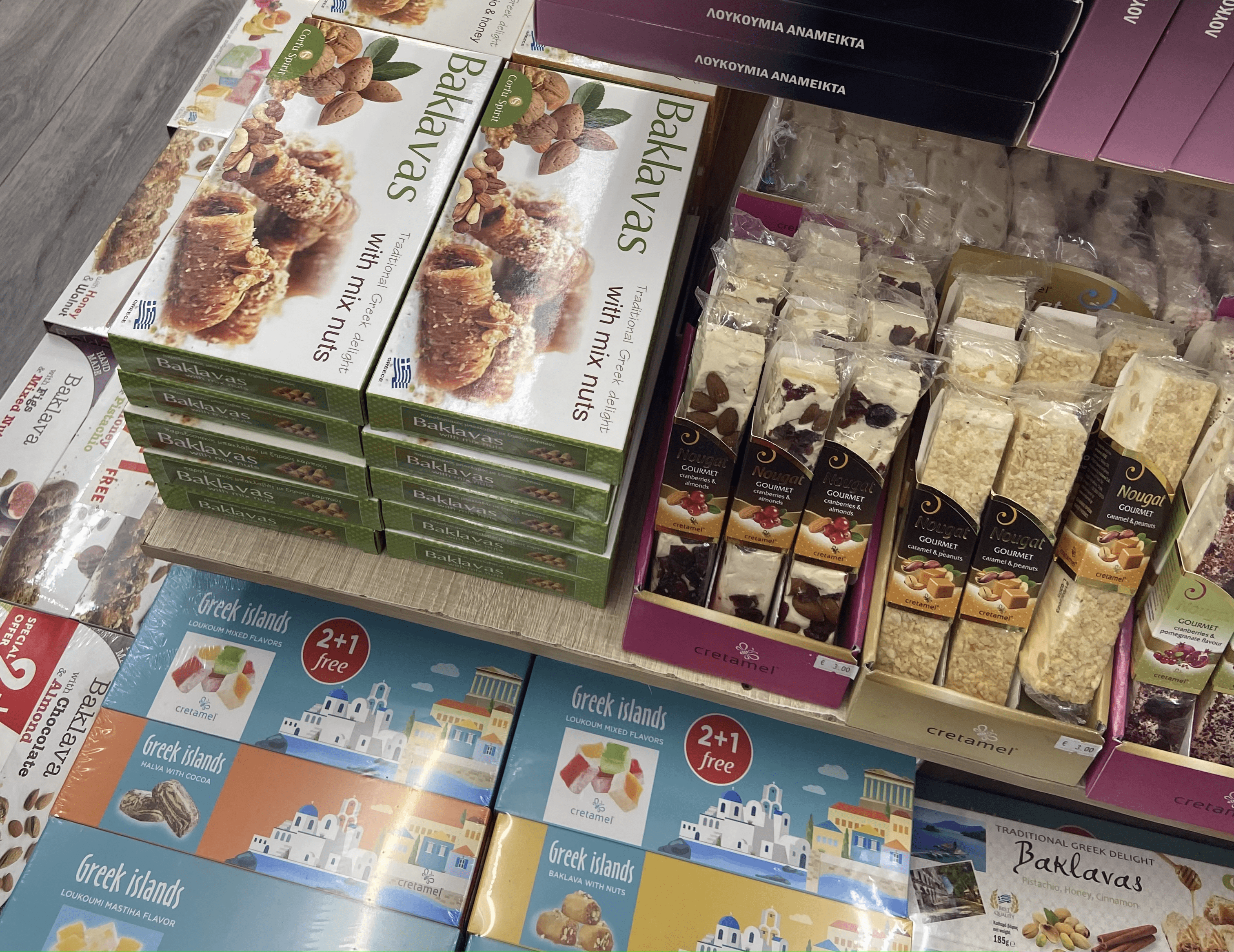 Create social media content for your TikTok/Pinterest audience. I recorded 3-5 second videos during the trip and did a voice-over for the entire video compilation. It resulted to become a successful TikTok on my profile and is actually pinned. I believe people want to know the solution to everything and when there's not enough/correct information on the internet, some people, like me in this case, come to the rescue.
Here's how we booked and spent the entire trip:
First, we booked the tickets a day before and we were required to do that using our passports.
The cost for same-day return tickets was 30 euros (15 euros to go to Corfu and 15 euros to come back to Saranda).
There were tons of alternatives when it comes to picking the timeslots, but we picked the 9 AM – 7 PM. Be aware that 'Greece uses Eastern European Time (EET) (UTC+02:00) during winter, and Eastern European Summer Time (EEST) (UTC+03:00) during summer.' Source: simplewikipedia.org
We got to the port at 8:20 AM and after the customs check with our passports only, we waited for the Santa boat. It was a fast and very comfortable ferry boat that made our trip last 30 minutes only! And, we loved it.
After getting off the ferry boat, we check in to the Greek customs.
We took a taxi right at the port, got to the Old Town in 3 minutes and it cost 10 Euros.
The day was spent perfectly! We walked around the Old Town, bought a few souvenirs to take back home, and of course, some Kumquat drinks.
After walking through the beautiful french street of Liston Promenade and visiting the Cathedral of Saint Spyridon, Serbian Museum of Corfu, Cathedral of Saints Jacob and Christopher, etc. – we decided to have lunch at Pane e Souvlaki to try the traditional Greek souvlaki!
Spoiler alert.
The food was amazing. It cost 9 Euros, but it was definitely worth it. PS: If we would have walked just a little bit further, the souvlaki would cost us less in another restaurant, but the one we tried was definitely bigger and the service deserved 5 stars!
Of course, the day was long enough for us to walk around again, have ice cream, and drink a cold beverage.
We noticed that we had 2 hours left to take the next boat trip so we decided to walk to the port.
The distance from the Corfu Old Town to the port was 30 minutes. Take your umbrellas/hats and off to the port!
Note: If you don't take the Hop-on Hop-off bus to view more things around Corfu, you'll need to book a shorter trip than 9 AM – 7 PM.
Read more:
Istanbul Travel Tips for First-Time Visitors
Road Trip Checklist – Essentials for Summer 2022