Pinterest is an inspiring and interesting social network that people use almost every day. It might seem an easy-to-use platform for some people who are just looking around and getting new ideas for their next crafts, but to others, it's the most important platform to generate income. And that's why Pinterest never stops surprising us.
And, if you want to save yourself some time and let Pinterest do miracles for your sales, then Rich Pins are the place to go!
What are Rich Pins, exactly?
Rich Pins are the type of Pins that provide more context and help people save time getting the information they need. Some extra information never hurt anyone.
They contain the real-time product prices, CTA buttons, reviews, etc. that get extracted by the website, directly.
There are 4 Rich Pin types:
Recipe – Photo of the finished dish, all ingredients, cooking time, serving information, and reviews.
Product – Photo of the product, pricing, availability, and description.
Article – Title, author, description (Meta), and the link.
App – People can use the CTA button to Download/Install the app immediately.
But, other than those, here's what you need to know:
Rich Pins on Pinterest are FREE and available for everyone to use.
Once you update the information on your website, it will automatically update on Pinterest, too, in real time!
They effortlessly help your content SEO. Trick: Find what's trending and use that! Click here to learn.
Every Rich Pin will be linked to a special URL that helps visitors quickly purchase your product, download your app, or read!
To enable or not to enable the Rich Pins? Website visits VS user experience?
We know most bloggers earn from website clicks and the ads they have around the website. But, an experienced blogger always goes the extra mile to earn the respect and build a community.
And that is not at all related to getting clicks and earnings from ads.
Bloggers, marketers, social media managers, and small business owners care about their reputation and they can build interest with one single post, if smart.
Honestly, who has the time to read the ENTIRE story of how potatoes were found? I want to eat the wedges, and I want to eat them now.
Rich Pins over anything else? Sure. You don't have to convince your audience to go back to the blog and read the 200 grams of flour turn into 202. They can quickly see that on your Pinterest profile!
Pinterest Important Stats Every Marketer Needs to Know
433 million people use Pinterest every month.
97% of top Pinterest searches are unbranded. Take SEO to another level!
83% of weekly Pinners have made a purchase based on the content they saw from brands on Pinterest.
Read more: Pinterest Stats in 2022
How to Install Rich Pins? Let's get technical.
Take a look at Pinterest's developer's docs, or continue reading.
Catch? You need to apply to get the benefit of adding Rich Pins.
How to Set Up Rich Pins?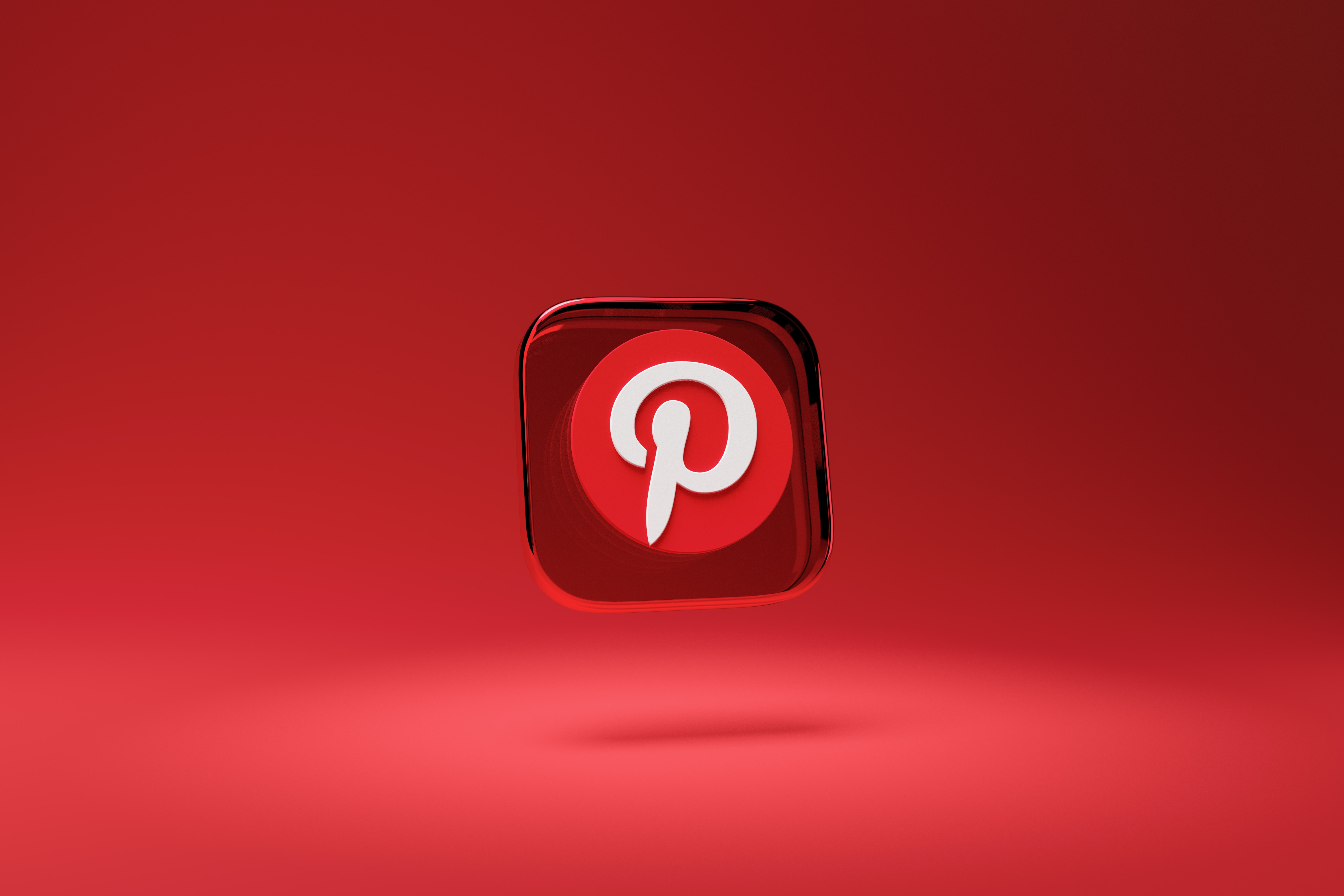 Add metadata on your website.
Apply!
According to Pinterest, if you add metadata for multiple types of Rich Pins to your page, the type of Pin that appears will be based on priority: (1) App Pins, (2) Product Pins, (3) Recipe Pins, and (4) Article Pins.
STEP 1
Go to Plugins
Click Add New (or simply modify this URL here: "https://yourwebsite.com/wp-admin/plugin-install.php" and paste it on Google)
Search for Yoast SEO, Install, and Activate
After activating it, you can find Yoast SEO on the left side menu. Click on it and select Social.
Select the second option on top: Facebook – and click Enabled under: Add Open Graph meta data
STEP 2
Validate your website.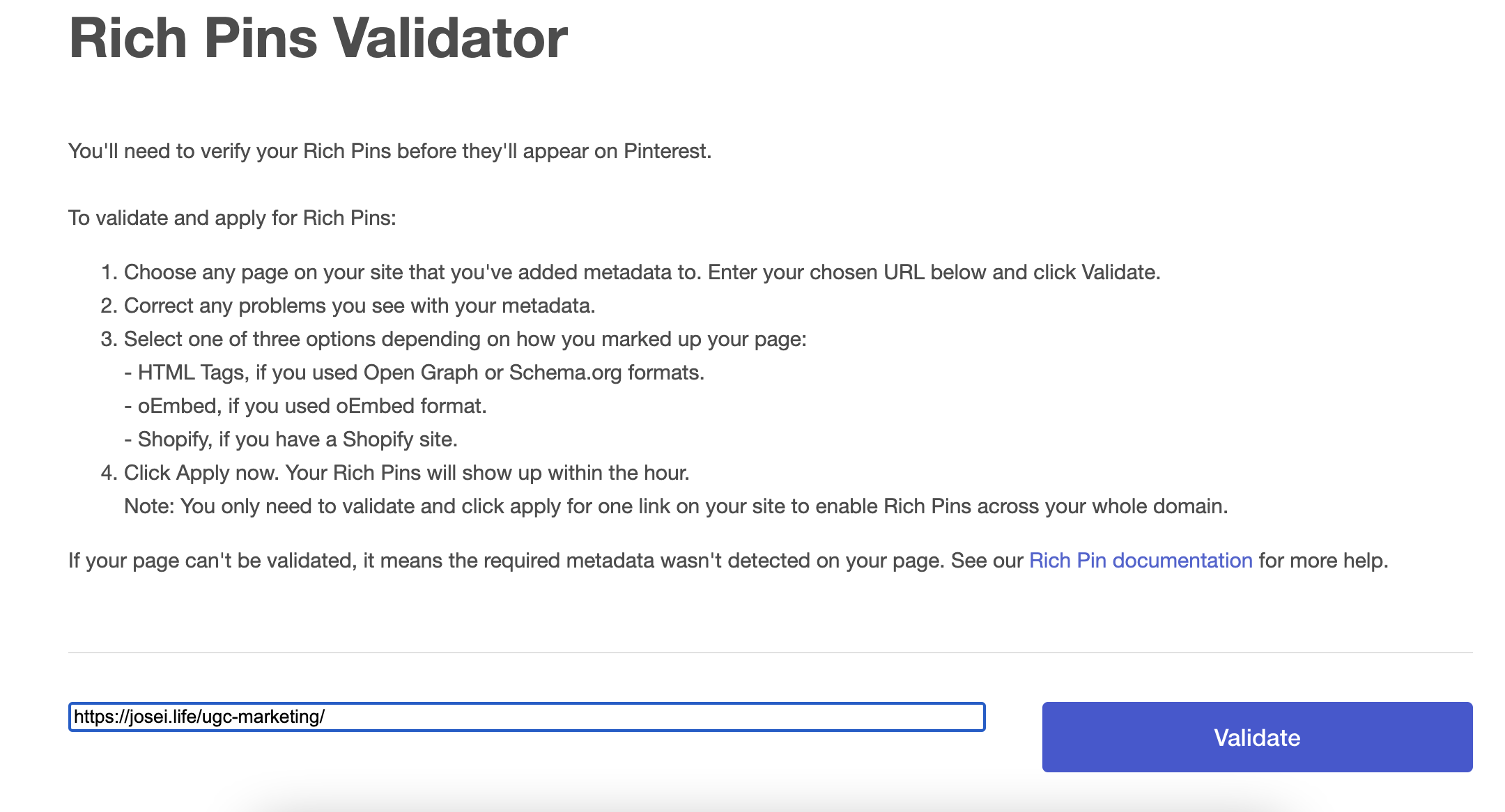 Step 3
I have already done this in the past and there's a green checkmark and nothing else for me to do, but, you'll be able to see an 'Apply' button on the right.
After 24+ hours, you will be able to see your Pinterest Rich Pins on your profile!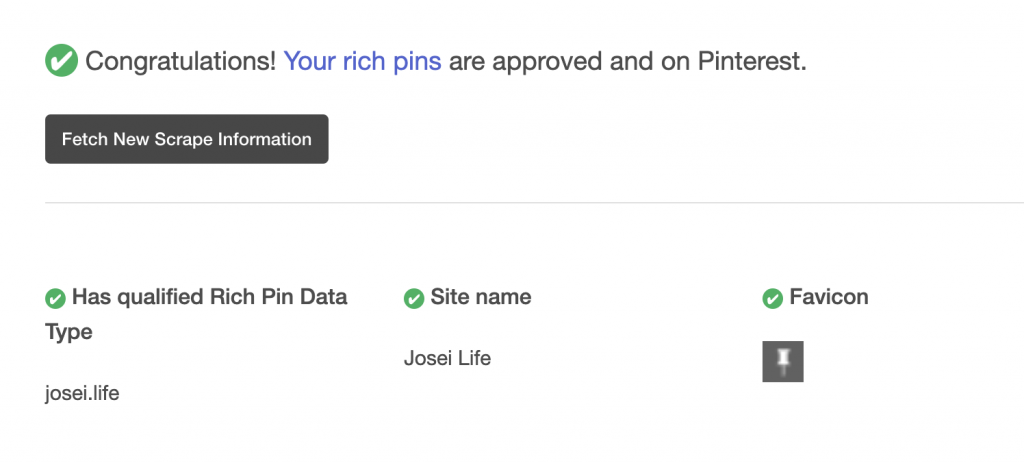 Read more:
3 Lazy Ways to Avoid Social Media Slowdown