As a social media manager for over 8 years now, I know how to properly schedule posts and get more organized.
I know I should feel lucky for having found my passion for social media and creating content by myself. It is something that many people might have, but at the same time, many other people might want.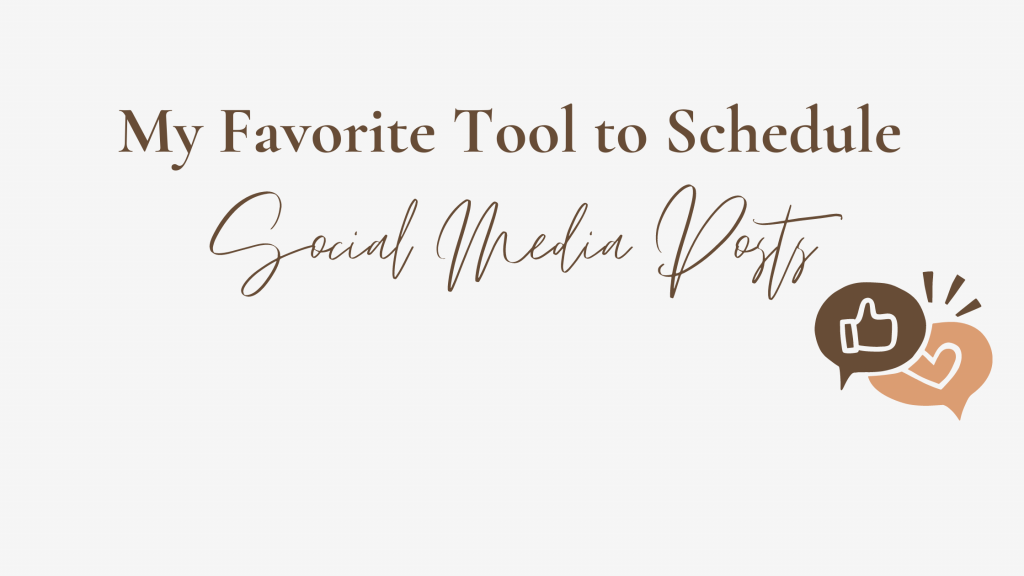 I've experimented with different tactics and workflows but still found my way to jumping to bed and not feeling organized. That's when it hit me!
I needed to focus on my goal more and spend the time as it should. I've said it before in an article where I wrote about starting a new business while working 9-5. I will never stop saying it: Unless you have a goal, there's no success!
You love your brand. Your brand needs you and a good online reputation. Being active on social media is a MUST, but also difficult if there's too much on your plate. I get it. I've been there.
It's nice to have professional tools to work with. I've been using Crello for some time and I'm amazed by the awesome social media illustrations I've created. And I can't get enough of saying that I'm not a talented graphic designer. Therefore, I need some tools to save me some quality time!

I tried multiple social media management tools that would help me organize my work and prepare my beautiful designs, but most of them were costly, and let's admit it: we know there's always a better solution if you keep searching.
Again, I was lucky enough to be introduced to a super-powerful tool that changed many people's lives.
So, here's the scenario: You want to prepare all your social media content and schedule future posts in 2 days. Then, you want to enjoy the rest of the month to take advantage of a marketing plan, host webinars, etc.
I know there are a lot of people that don't want to spend time over useless things that can be done in a few days.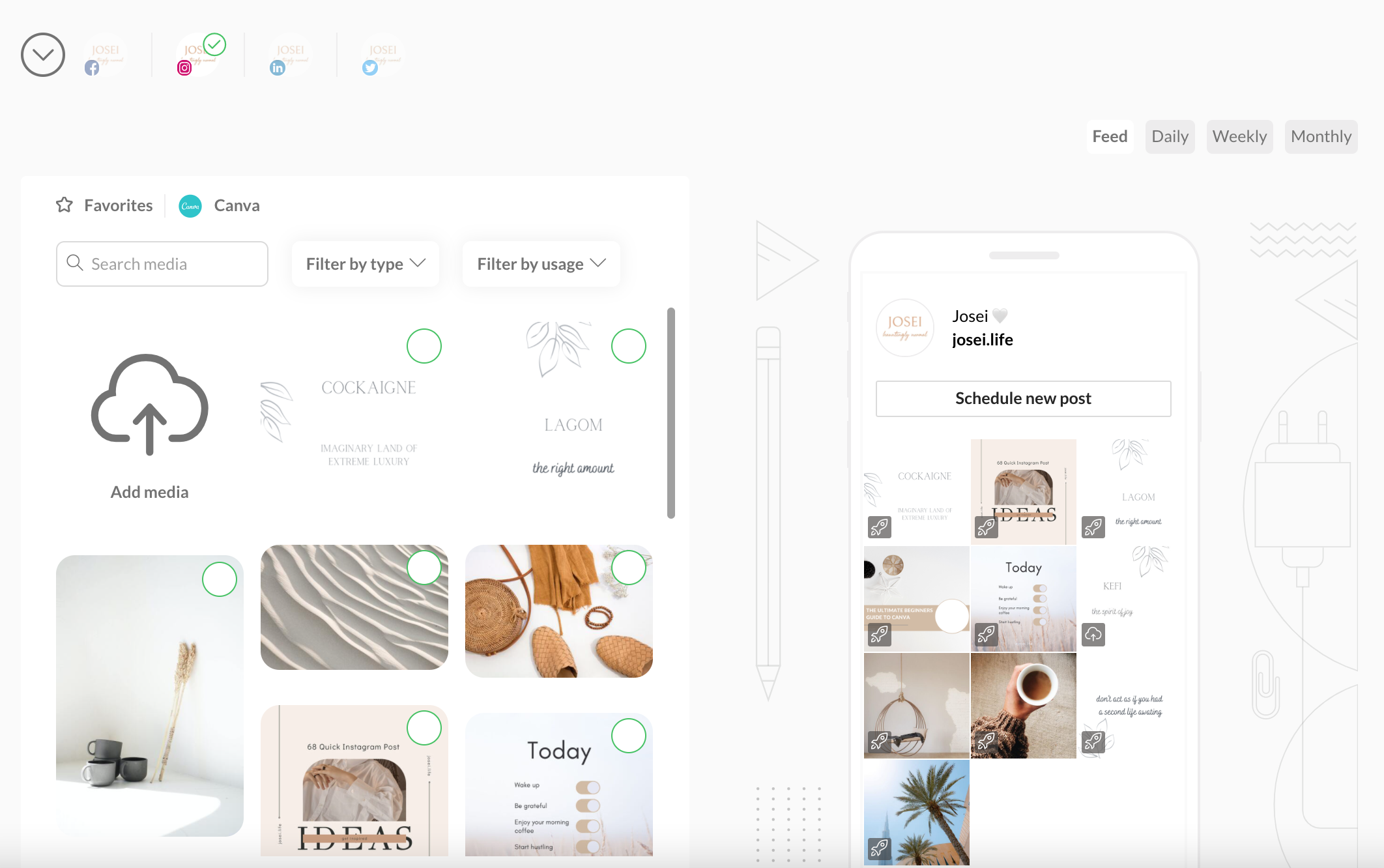 I'm talking about PUBLER – Schedule Posts and Get Organized
As it is self-named, a superhero, Publer came to the rescue when I most needed it. Except for a full-time job, I was managing 50 other social media accounts at the same time and I sincerely couldn't afford the extremely high prices of Hootsuite, Later, or Buffer. I had heard of them a lot, but their UX simply didn't match the mood and fantasy world I needed to create content.
Publer has a simple interface and it is truly intuitive! You can find everything you want quickly. You can surf through Accounts, Analytics, and Link in Bio like those are connected to each other, and still not get distracted.
Let's jump on what I prefer most regarding Publer:
The Link in Bio by Publer
The worst social media manager's nightmare is to change the link in bio on Instagram over and over again when new posts are shared. Do you feel the same?
Now I have a unique link in the bio URL which I don't have to change anymore.
Here's what the Link in Bio by Publer allows you to do:
Add links to photos/videos. Everyone who clicks the link in bio will see the exact same Instagram grid, but now every photo is clickable! Hey affiliate marketers, what are you still doing here?
Add up to 16 links like socials, blogs, feedback, etc. so everyone can follow me on all platforms as well as surf through my website and other sites, easily.
The link in Bio by Publer is FREE (forever). Sign up for Publer today.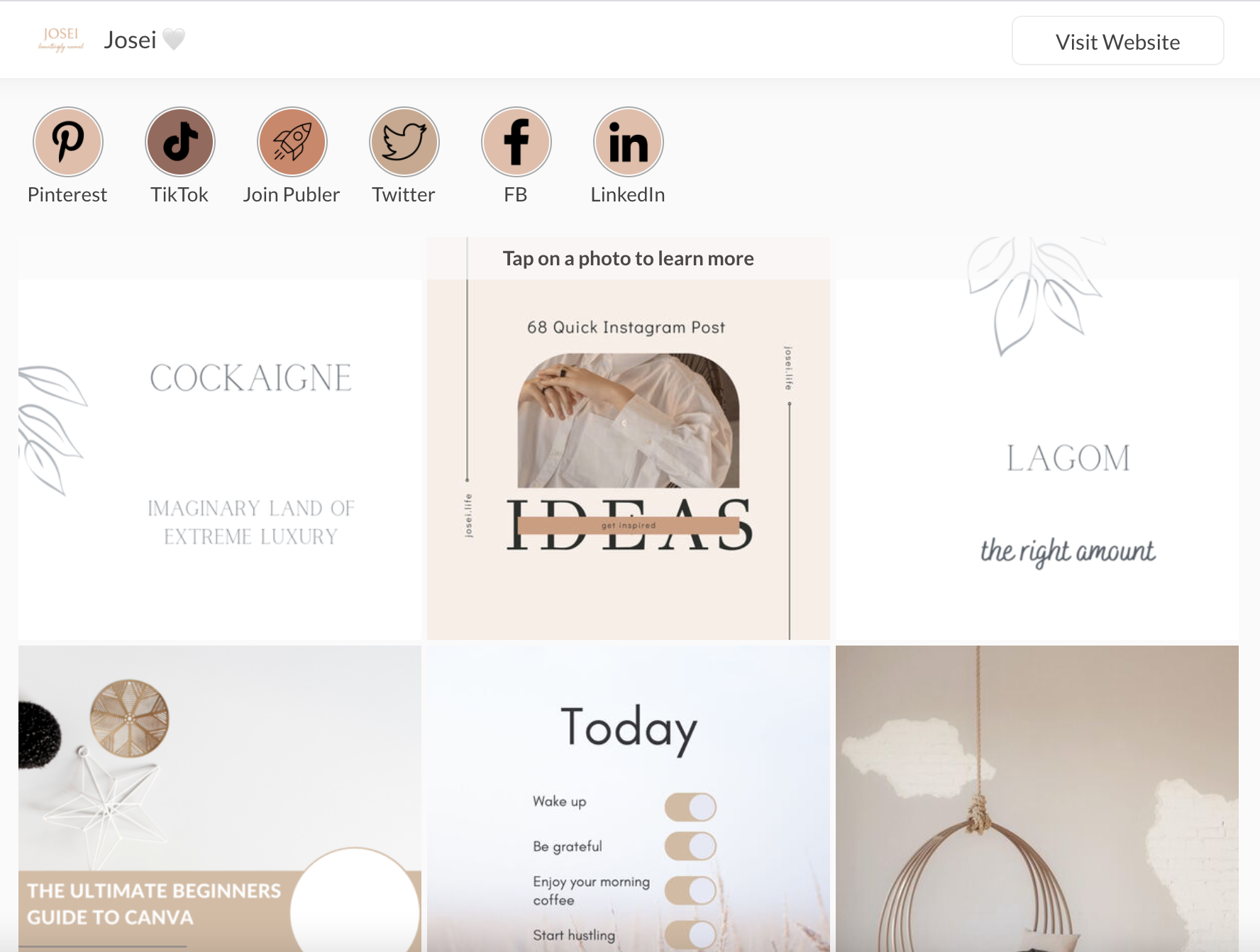 RSS Feed Auto-Import
I didn't even know how worthy this feature was until I started blogging again. My site is hosted on WordPress and all I need to do is add my blog's RSS link and Publer will share the posts I want, whenever I want!
If your blog is hosted on WordPress as well, all you need to do is add: '/feed' at the end of the blog URL. For example: 'josei.life/feed'.
As soon as you add the RSS feed URL, Publer automatically pulls the new articles and shows them to your dashboard. You can decide to post the new articles to your social media accounts directly or schedule posts according to a specific schedule.
So, I usually set Publer to automatically share the new blog posts to my Facebook, LinkedIn, and Twitter accounts directly. This way, I save tons of time preparing some beautiful Canva designs for Stories/Fleets. Smart enough?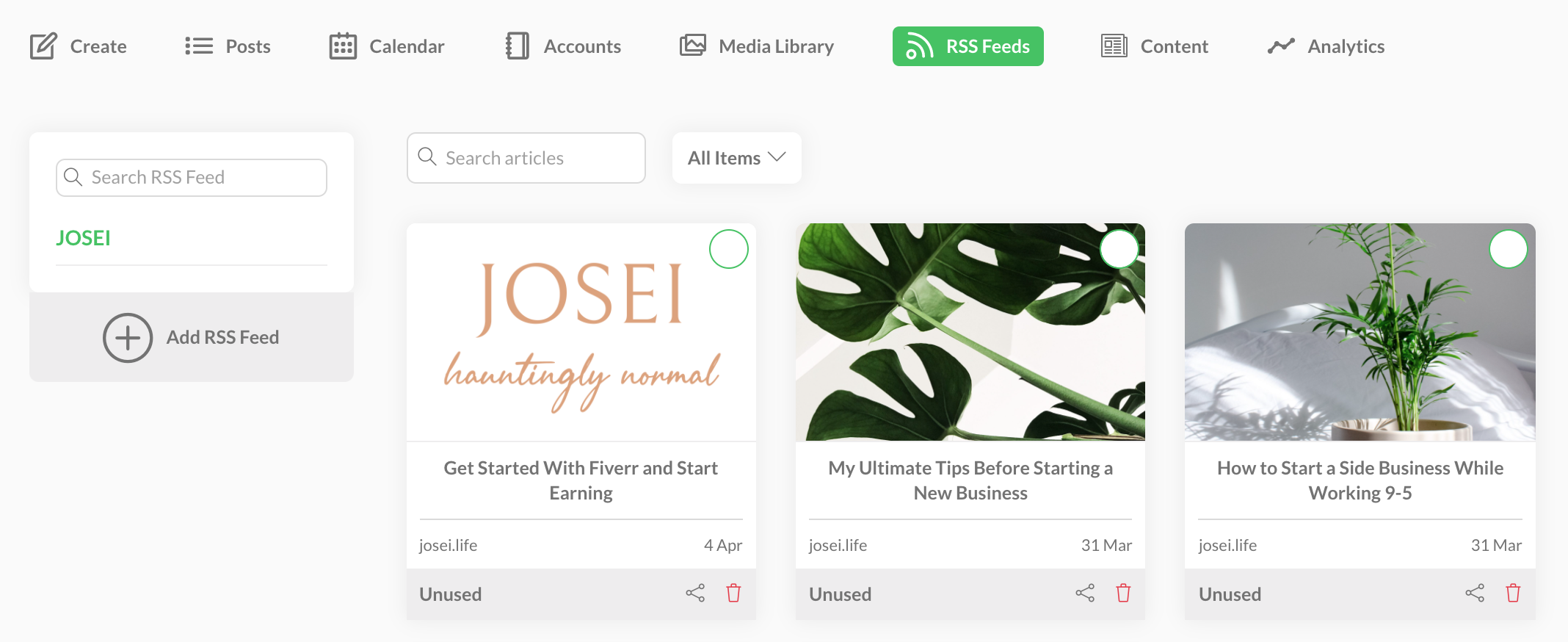 Schedule Social Media Holiday Posts on the Visual Calendar
So, we've all been in a situation where we didn't even know what to post on social media. It's highly recommended to post on social media consistently. Aren't some of us moody?
Here's where Publer saves lives! On the Calendar dashboard, everyone can see a mini-calendar icon on each specific day. If you click on that, all social media holidays will pop up, along with the respective hashtags. All you have to do is select a holiday, the social accounts, and start preparing a brand new post based on that holiday!
So, let's say it's Pancakes' Day. Click on the holiday; select the social account/s and then you can write something or grab a Pancake Gif (which you can generate from Publer, too). Off you go!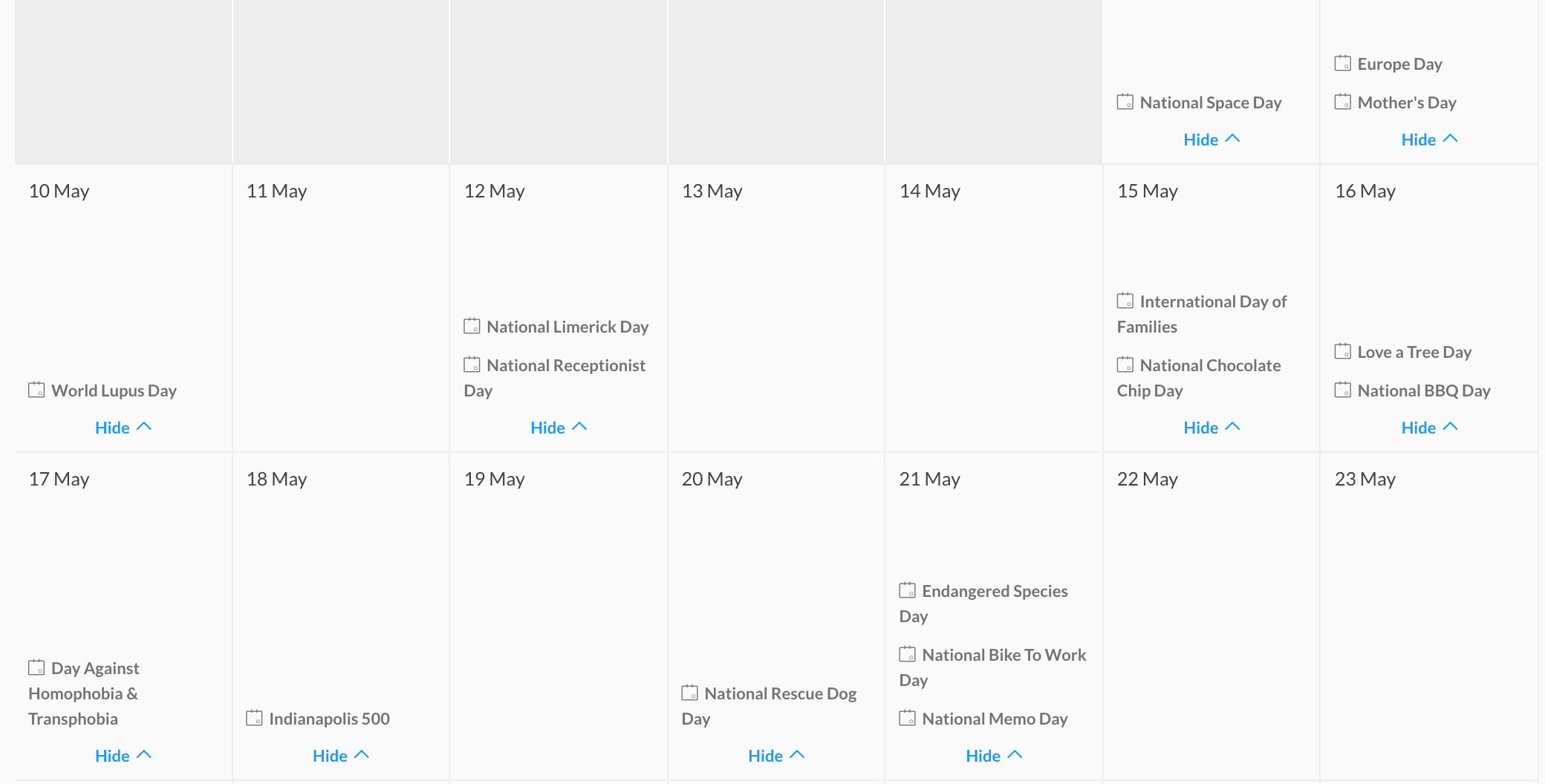 These are my Top 3 favorite things to take advantage of at Publer! It is the social media superhero that everyone needs. Schedule your posts now and enjoy your life.